Stunning Floors with Terrazzo Tile Designs
Terrazzo tile designs have re-taken the world by storm and are today an immensely popular choice for interior home design. Not only are they incredibly stylish, but they're also incredibly durable and can last for years.
Traditionally used for flooring, terrazzo tiles are equally at home on interior walls as well as floors. With their unique combination of stone chips, marble chips, and cement, terrazzo tiles create unique and eye-catching patterns that are sure to make any room stand out. Not limited to interiors, outdoor terrazzo tiles are also an excellent choice for any outdoor area due to their durability, versatility, and aesthetic appeal.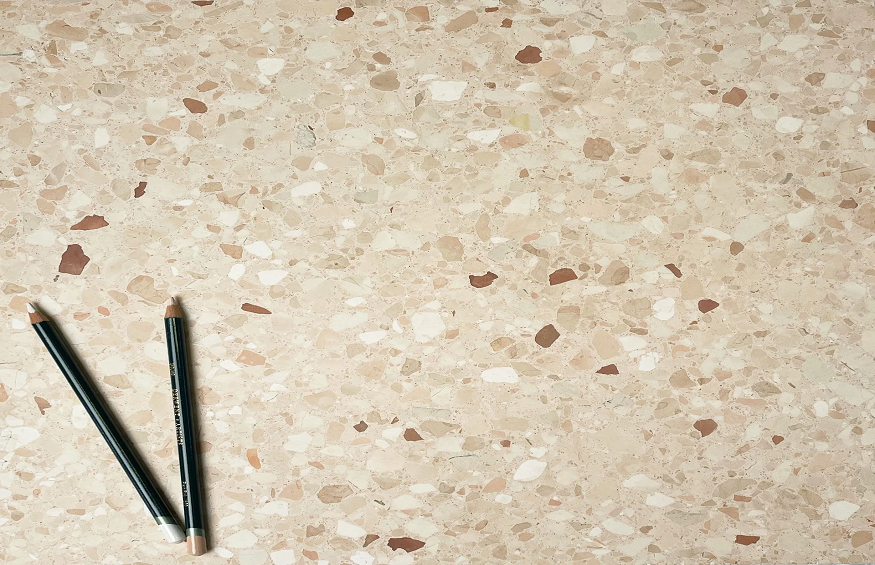 Unlimited Designs and Styles for Your Floor
Terrazzo floor tiles come in a wide range of colours, from white and neutral cream and beige to bolder shades of blue and green through to stunning black. You can also mix and match colours to create a truly unique look. They also come in a variety of finishes, from high-gloss to more matte finishes. The finish affects how light reflects off the tiles and can be used to create different looks.
For those looking to create a more modern, elegant look, square or rectangular terrazzo floor tiles with a smooth, glossy finish are a great choice. Rectangular tiles can also be used to create sleek, geometric designs.
Also consider:
Use lighter colours. Lighter colours like white, beige, and grey will give the tiles a more modern look.
Use contrasting colours. Use contrasting colours like black or deep blue to add a modern edge to your design.
Go for a contemporary pattern. Use a contemporary pattern like a chevron or a herringbone.
Choose bigger tiles if possible. Bigger tiles can create a more modern and sleek look.
Incorporate other modern elements. Incorporate other modern elements like stainless steel fixtures and furniture to complete the look.
For a more traditional look:
Choose classic warm tones such as beige, cream and caramel terrazzo paired with natural materials to complement the tiles.
Consider adding borders, shapes and patterns.
Pair the terrazzo with wood floors, marble countertops, and stone accents.
Choose classic furniture and decor. Furniture pieces with clean lines and traditional fabrics, along with vintage lighting and accessories, will complete the look.
Choose Genuine Terrazzo or Terrazzo Look Tiles
Consider too, whether you opt for genuine terrazzo tiles or their new counterpart terrazzo look tiles.
Genuine terrazzo tiles are made of real pieces of marble, granite, quartz, glass, or other materials mixed with cement, while terrazzo look tiles are made of porcelain or ceramic.
Genuine terrazzo tiles are usually more expensive than terrazzo look tiles and may require more maintenance. As they are made of natural materials they are likely to be more durable than terrazzo look tiles.
For some people there is no match for the real thing, and genuine terrazzo made from natural materials provides an unrivalled look and feel. However, you would be hard pressed in some instances to identify genuine terrazzo from terrazzo look tiles.
One of the major benefits of terrazzo look tiles is that they can be produced with spectacular ultra-modern geometric patterns, textures, almost any colour you can imagine and a range of aesthetic treatments that are truly stunning.
Choose Sizes Based on the Size of Your Floor Space
When using terrazzo tiles, it's important to consider the size of the space. Smaller terrazzo tiles are best for small rooms, as they help create a more intimate atmosphere. Larger terrazzo tiles are better suited for larger spaces where a bolder, more dramatic look is desired. Once you've chosen the size and shape of your tiles, you can begin to consider colour.
Professional Advice and Installation Matters
The grout used to install terrazzo tiles also affects the look of the floor. Grout can be matched to the colour of the tiles, or you can choose a different colour to create a unique, contrasting look. The size of the grout lines also affects the overall look. Smaller grout lines create a more uniform look, while larger grout lines can help create a more dramatic look.
When it comes to installation, terrazzo tiles should always be professionally installed. The process requires precision, and any mistakes made during installation can be difficult to repair. Professional installation also ensures that the tiles are properly sealed, which helps protect them from moisture and other damage.
When using terrazzo tiles outdoors, it's important to choose a sealant that can withstand extreme weather conditions. Outdoor terrazzo tiles may require more frequent sealing and maintenance than their indoor counterparts. Speak to a tile expert at Urban Edge Ceramics for professional advice.
No matter what type of design you're trying to achieve, terrazzo tiles are an excellent choice. With their unique style and the resurgence of new colours, shapes, and finishes, they can help create a distinct look for any space. They're durable, easy to maintain, and can last for years. So, if you're looking for a unique and stylish flooring solution that is truly stunning, consider terrazzo tiles for your next design project.