Kitchen Splashback Tiles: Design Ideas & Emerging Trends
Kitchen splashback tiles offer a supremely hard wearing, durable and long lasting finish in the home kitchen, allowing you to completely explore your creativity when curating that perfect color scheme. Wall tiles for the kitchen are available in such a vast array of shapes, colors, sizes, patterns and even textures, offering endless design possibilities! We explore some creative designer tile options for the kitchen as well as emerging design trends to help you create the perfect style in your next kitchen renovation project.
Kitchen Splashback Tiles: Porcelain or Ceramic?
The terms porcelain and ceramic are often used interchangeably in the design world however, there are some key differences to take into consideration when selecting between these two popular kitchen splashback tile options. Both porcelain and ceramic tiles are made using the same combination of raw materials and then baked using similar methods; however, porcelain tiles will often be baked for much longer than their ceramic tile counterparts, resulting in an ultra-hard surface finish that is almost completely non-porous and will not require sealing.
Caption: Finger tiles (also referred to as Kit Kat tiles) offer a luscious finishing touch to the modern kitchen, creating a discreet sense of pattern and texture with their classic slim format. These mosaic tiles can be found in a large variety of materials, from porcelain tile options as shown above to natural stone varieties and more.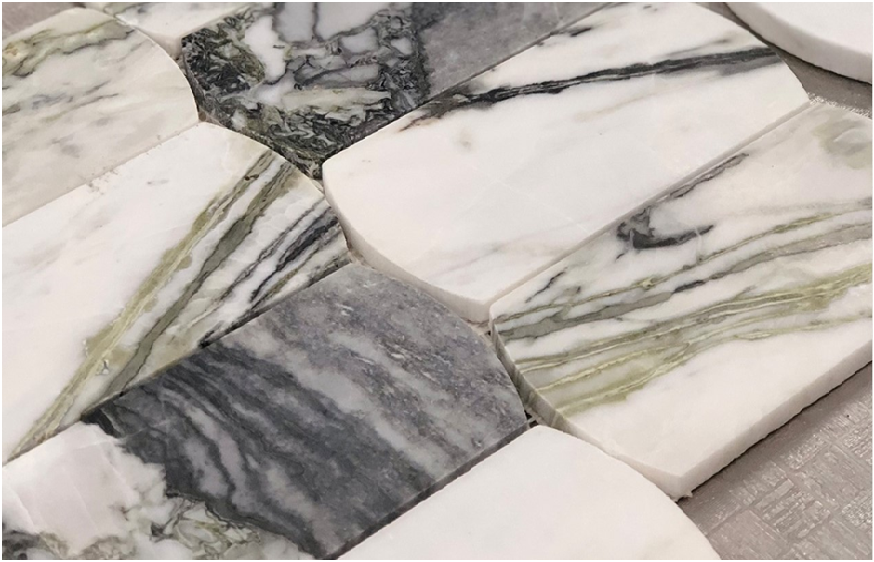 Ceramic tiles on the other hand are much lighter in weight and also softer than porcelain tiles, making them often favored as a wall tile solution as these qualities allow for better ease of installation. Most ceramic kitchen tiles will have a sleek glaze applied to their surface prior to the baking process. This glaze hardens in the kiln, creating an almost glass-like layer over the tile that will protect the product from staining or marking. Thanks to this glaze, ceramic wall tiles will not require sealing, making these options another well sought after option for the home kitchen as they are simple to keep clean and maintain. Whether you opt for porcelain or ceramic tiles as your new kitchen splashback, you are sure to find the perfect match for your home!
Each of these two exciting tile categories will include an impressive range of options in terms of color, shape, pattern and size, allowing you to experiment with a variety of options to create the perfect designer look in your next project.
Natural Stone Wall Tiles
Natural stones such as slate, marble, granite and more are all timeless trends in the kitchen. Natural materials instantly lift any design scheme, adding a sense of movement, energy and tranquility to the space with their luscious textures, organic patterns and warm colors. Natural stone wall tiles are always on trend, making this an incredibly versatile and timeless option for the home. It is important to keep in mind however that these types of materials are porous and as such, will require sealing. Despite this characteristic, a natural stone tiled kitchen splashback will truly last the test of time in the material's longevity and timeless qualities!
Caption: Marble tiles are an especially popular natural stone tile option for the kitchen. This rich and earthy material has been used in architecture for thousands of years, cementing its use in the home as a timeless classic. Marble tiles can be paired with a matching benchtop to create a stylish look in the home. You do have the option of running your benchtop up the walls in a slab format however, using matching tiles instead will offer you the opportunity to add a sense of pattern in your design scheme by experimenting with different tile shapes.
An emerging trend in the world of interior design sees luxurious natural stone benchtops being included in the home kitchen's design scheme with a matching stone tile running up the walls. This look minimizes the amount of different materials and finishes in the space that are competing for attention, creating a sleek and stylish look that is classic and timeless. Pair natural stones with a variety of trending materials and textures for a dramatic look in your new kitchen to create a rich and tranquil design: consider including concrete, timber or velvety soft matte finishes in your new kitchen for a luxurious yet serene atmosphere.
Handmade Tiles for Kitchen Splashbacks 
Handmade tiles are emerging as a hot interior design trend for the kitchen. These types of tiles add a wonderfully tactile feature in the kitchen as each individual tile is unique from the next, resulting in a luxuriously textured surface finish that creates a charming and inviting quality in any style of kitchen design. Handmade tiles continue to be made by highly skilled artisans right across the world with techniques and workshops passing down from one generation to the next. Each tile is crafted by hand, from shaping and molding the product to adding luxe glazes or hand painted features. From encaustic tiles to ceramic tiles, there are several different types of handmade tile option available in an endless range of customized shapes, colors and patterns.
Caption: Handmade tiles continue to be made around the world using centuries old techniques that have been passed down from one generation to the next. As a result of the hand making process, these tiles will feature differences from one tile to the next; each individual tile will feature variations in its depth of color or tone, variations in size as well as texture, creating a wonderful patchwork effect for a luxuriously tactile experience.
From classic porcelain or ceramic tile options to luxurious natural stone tiles and elegant handmade tiles, kitchen splashback tiles are available in a wide variety of designer options that will allow you to completely explore your creativity when putting together that perfect color scheme in your home. Each of these stunning styles will instantly elevate your interior design scheme for a modern yet timeless look, embracing merging interior design trends in your next home renovation project.